SHS Bigs in School is here again in this 2014-2015 school year. Every Friday morning (if there is school that day) from 7:00 a.m. to 8:00 a.m. they meet at the Sabetha Middle School. From here, Sabetha High School Students are then matched up with kindergarten through 8th grade students. These matches will meet on a one-on-one basis and will do different things such as work on homework, play board games, and other things that could help the students. Staff of BBBS will walk with the grade school students to school after this, unless there are poor weather conditions. If there are poor weather conditions, a bus will be provided for transportation. At any point in time, a student can apply for Bigs in School by requesting a form from Mrs. Toedman, completing the form, and then turning it back into either the school office or Mrs. Toedman directly. You must be a sophomore and at least 15 years of age to be able to be involved in Bigs in School. All applicants must complete an application, 10-15 minute interview, and must pass background checks.
Goals:
1. Be a positive role model for Littles
2. Assist Littles with homework or anything else like this
3. Visit with Littles about their life and get to know them
4. Be supportive of your Littles
5. Build a relationship of friendship and trust with your Littles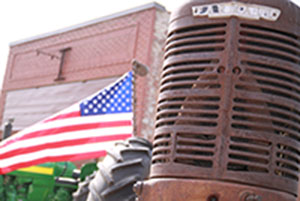 This photo was taken by the Sabetha Herald during the Big Brothers Big Sisters Tractor Cruise .
Picture of kids enjoying the Tractors during the Tractor Cruise taken by Sabetha Herald.
Expectations:
1. Be on time each Friday morning
2. Be ready to get stuff done, no matter what you will be doing
3. Have your Activity Day planned and approved at least a week in advance
4. Be positive at all times!
"I enjoy Big Brothers Big Sisters because its a great learning experience for both my little and I." -Courtney Plattner
"I believe that bigs is a great chance for kids to have an older figure to look up to." -Brock Frey
"I firmly believe that Big Brothers Big Sisters is an amazing organization. It allows kids to have a mentor to guide them throughout their educational experience." -Matthew Burdick