Ms. Lauren Massey
Lauren Massey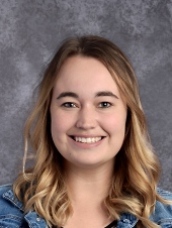 1st Grade Teacher: Sabetha Elementary School
Phone: 785-284-3448
Email: masseyl@usd113.org
Best Contact Time: 7:30-7:50 am, 1:30-2:20 pm (Plan), Schedule time for evening
Ms. Massey graduated in 2015 from Tabor College in Hillsboro, Kansas with a Bachelor's degree in Elementary Education. She was awarded Teacher of Promise in 2015 through the Kansas Board of Education. She also studied at Highland Community College for my first two years of her college education. She is currently working towards her Masters Education Degree through the University of Kansas. She started teaching in 2016 at Sabetha Elementary School.
Ms. Massey is also the Head Softball Coach at Sabetha High School and an Assistant Middle School Volleyball coach at Sabetha Middle School.
Ms. Massey is originally from Lawrence, Kansas. She loves to travel and spends most of her summer in The Rocky Mountains teaching kids how to ride horses. Ms. Massey enjoys camping, hiking, and being outside in nature.