Sheryl Plattner Fifth Grade Reading & Writing Instructor
Sheryl Plattner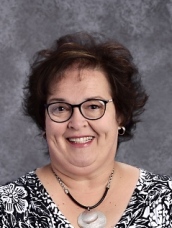 5th Grade Reading and Writing Teacher: Sabetha Elementary School
Phone: 785-284-3448
Email: plattnsh@usd113.org
Best Contact Time: 8:10-8:50 or before or after school
Sheryl Plattner currently teaches Reading and Writing Instruction at the Fifth Grade level. During her tenure at Sabetha Elementary School, Sheryl has taught Title I at all levels and Third Grade for several years before moving to Fifth Grade where she has taught Science, Social Studies, English, and Technology.
Mrs. Plattner's educational career includes a Bachelor degree in Education from Kansas State, a Master's degree from Baker University in Curriculum, and a Reading Specialist endorsement from Emporia State University. Throughout her years of teaching Sheryl has been involved with the Kansas Reading Association, the International Reading Association, National Education Association, and the Kansas State Department of Education. In addition, Sheryl has helped to write Language Arts Curriculum at the state level and at the local level. Throughout her professional career Sheryl has presented various workshops to her peers locally, at the state level, and at the national level. Currently she is a state trainer in reading and writing for KSDE.
During her free time, Sheryl enjoys spending time with her husband, Randy and children Allyson, Allyn, and daughter in law
Hannah.Currently, she has two grandchildren, Jayce and Zayne. Both of her children live north, one in Minnesota and one in Wisconsin. Needless to say, travel north is always in the plans.