Teacher Biography
Thelma Strathman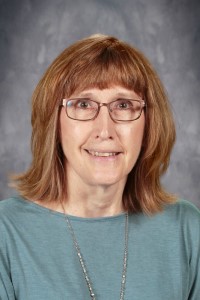 Math Teacher: Wetmore Academic Center, Grades 8-12
Phone: 785-866-2860
Email: strathmt@usd113.org
Best Contact Time: 11:30 a.m.- 12:30 p.m. or 3:30 p.m. - 4:00 p.m
Thelma Strathman serves as the 8-12 grade math teacher at Wetmore Academic Center. She has been in education for over 30 years. She teaches 8th grade math, Algebra I, Geometry, Algebra II, Trigonometry, and College Algebra concurrently through Highland Community College. Her extra-curricular responsibilities include Wetmore Building Leadership Team, high school scholars' bowl coach and freshmen class sponsor.
Mrs. Strathman received a Bachelor of Science in Education (Mathematics) in 1985 and a Master of Science in Educational Administration in 1999 both from Kansas State University. She is a member of National Education Association, National Council of Teachers of Mathematics, and Kansas Association of Teachers of Mathematics.
Thelma Strathman is married to Dean Stathman and they live in rural Sabetha.