FAQ - Frequently Asked Questions from USD 113 Patrons
FAQ - Frequently Asked Questions from USD 113 Patrons
Most recent update: 7/16/23
Underlined text is hyperlinked to other documents with more information.
Don't see your question listed here? Submit it for consideration by clicking here!
Q: Can you detail the formulas used throughout the past eight years that concerned viability for each campus and can you explain the rationale behind utilizing different formulas throughout this time?
A: The difference between the 2016 and 2019 Viability formulas is the method that Revenue for the Supplemental General Fund was allocated. In 2019, because of the increasing challenges for buildings to meet the viability standard, the Board of Education adjusted the process to include a valuation component (combined and divided between Axtell and Wetmore). The challenge with this formula was that it led to a misunderstanding that the 2019 formula reflected the amount of subsidization. Valuation is not used to determine the General Fund or Supplemental General Fund budgets. It is completely based upon student weightings. Valuation, taxes and state aid comes into play as part of the mechanism by which funding is provided.
Supporting Information:
FY 15 - 23 Viability Information (At the bottom of this document is a summary of different formulas for allocating revenue. The "2016 Formula" or the "2016 Formula Using Lookback" are most accurate for determining subsidization. The lookback process delays the appearance of declining enrollment for a campus compared to the 2016 formula – it does not reflect an individual year's increase or drop in enrollment, but is compatible with the state finance formula).
2016 Viability Document
2019 Viability Document
---
Q: Why did the board decide to close the Wetmore School?
A: Rationale for the Potential Closure of the Wetmore Academic Center. This was read by Mr. Evans at the closure hearing.
---
Q: Does our school board need to seek additional legal advice/support? I am thinking the board, board members, and superintendent are getting close to having a case for "defamation of character and harassment."
A: USD 113 has not sought legal counsel on this question at this time.
---
Q: How does low-enrollment weighting work?
A: Ratio from the KSDE Sliding Scale x Full time equivalency x Base State Aid Per pupil ($4,846 for 22-23).
KSDE Sliding Scale linked here
---
Q: What is residual weighting? (a.k.a. Adjusted Full Time Equivalency)
A: Residual weighting is a component of the Kansas School Finance formula that the legislature approves annually. The KSDE budget software automatically selects the greater of two unweighted full time (student) equivalency – the previous year or the year before that, along with weightings from the current year. The process by which they do this may be found on pages 5 & 6 of the 22-23 KSDE Enrollment Handbook. It is anticipated that for the 23-24 school year, the legislature will change this process so that school districts use the current year or previous year's unweighted FTE. As this issue applies to the Wetmore closure, under the 22-23 finance formula, a district would be able to count students who have transferred out of the district for the next two years. Compounding this issue, under the previous formula, districts receiving transfer students are not able to count those students for the first year of enrollment. The receiving district would receive funding for the weightings, but not for the Adjusted Full Time Equivalency.

As of 4/28/23, the legislature has not completed the Finance Formula legislation for 23-24. If they adjust this formula as anticipated (SB 113), to be the option of counting the current year's or previous year's students for Adjusted Full Time Equivalency, districts that students transfer to because of the Wetmore closure will receive full funding for those students. For that one year, USD 113 would receive (unweighted) funding as well by being able to use the previous year's Adjusted Full Time Equivalency.
---
Q: What has been the Standard Operating Procedure in the recent past for how school districts have handled residual weightings for students who have transferred from one district to another district? Have districts forwarded money to other districts when students transfer out?
A: In the State of Kansas the past practice for transfer students has been for districts to use the funds available to them from the state formula to educate the students they have for that year. There has been no effort to have the money follow students, in fact this would create an accounting nightmare for the State and for Districts. USD 113 has had students transfer into our district for which we have not received funding from other districts. USD 113 has also had students transfer out of our district for which we have not sent funding.
---
Q: Has the USD 113 Board of Education decided what to do with future residual weighting?
A: No decision has been made as of 4/28/23.
---
Q: Does this petition, in any possible scenario, keep the Wetmore Academic Center open?
A: No.
---
Q: What is the time line for transfer of property to be submitted to the State Board of Education for approval?
A: February 15 is the deadline for requests to be submitted to the State Board of Education See pages 9 and 10 of the Kansas State Board of Education Guidelines.
---
Q: Does a successful petition to Disorganize USD 113 have positive or negative impacts on neighboring school districts?
A: This question becomes very complex because there are numerous variables. As a generalization, for districts neighboring USD 113, it would be positive for those receiving land, but no (open) attendance centers. For those districts determined by the State Board of Education to receive land including open attendance centers it presents more negative implications. The following 5 points help explain some of these complexities
1. Unless a district has a completely at-large board of ed. election process, any district who receives land will be required to redistrict board of education positions. This would be neither positive or negative, but would alter the political dynamics of the district.
2. If a district were to receive land area with a significant population, the redistricting process could result in school districts with significant political division based upon geography. For example, an expanded 115: Seneca – Sabetha district. or an expanded 415 district: Hiawatha – Sabetha district could result in one district with significant political conflict. This has the potential to be a very negative situation.
3. A receiving district that was allocated land with an existing attendance center would need to determine if that attendance center would stay open for the following year. Considering the 113 attendance centers of Axtell and Sabetha, a receiving district would determine if the students could be educated in an existing facility. The concept of economy of scale is very important to this situation. Because of proximity, the Axtell area would likely be assigned to Nemaha Central. NC would determine if they have the space within the Seneca facilities to educate students. If they do, NC would benefit from the increased revenues these students would bring. If they would determine they do not have the space to educate the students in Seneca, the Axtell school would remain open. This would result in increased expenditures by maintaining two campuses for USD 115 and a decrease in low enrollment weighting revenue for not just new district students, but also for those who had previously attended NC schools. This would have a negative impact because of the potential unpopular decision to not keep a school open as well as a decrease in revenue on a per pupil basis because of less low-enrollment weighting. When a district is able to educate students in an existing facility, the addition of base state aid per pupil as well as other weightings minimize the loss of low enrollment weighting. By adding a facility to a district, the district takes on the expenses and loses low enrollment weighting – this is why the legislature has short-term incentives for districts who consolidate. The State of Kansas saves money on the funding formula by paying reduced low enrollment weighting. If land allocated to another district included the city of Sabetha, the situation for USD 115 or USD 415 becomes even more negative. It is likely the Sabetha schools would remain open because neighboring districts would not be able to handle the influx of new students. Per pupil revenue from low enrollment weighting for USD 115 or USD 415 would decline sharply. The gray cells reflect the 22-23 budgeted low enrollment weightings for USD 113, 115, and 415. The purple cells show the impact of low enrollment weighting on USD 115 after disorganization with Axtell and Axtell-Sabetha added. The red cells show a Hiawatha-Sabetha district. The yellow columns reflect funding per FTE for the different districts and scenarios.
| | | | | | |
| --- | --- | --- | --- | --- | --- |
| | | | | | |
| Data from KSDE Data Central | | | | | |
| | FTE | Low Enrollment Weighting Factor | FTE x BSAPP | Funding | Funding per FTE |
| 22-23 Prairie Hills USD 113 | 1063.2 | 0.22489 | 239.1 | $ 1,158,693.37 | $ 1,089.82 |
| 22-23 Nemaha Central USD 115 | 659 | 0.362217 | 238.7 | $ 1,156,745.06 | $ 1,755.30 |
| 22-23 Hiawatha USD 415 | 945.6 | 0.264845 | 250.4 | $ 1,213,619.80 | $ 1,283.44 |
| | | | | | |
| Base State Aid Per Pupil 22-23 | | | | $ 4,846.00 | |
| | | | | | |
| | | | | | |
| Dissolution of USD 113 | | | | | |
| Data FROM 22-23 PBR | | | | | |
| Axtell FTE | 135.6 | | | | |
| Wetmore FTE | 121 | | | | |
| Sabetha FTE | 806.6 | | | | |
| 1/2 Sabetha FTE | 403.3 | | | | |
| | | | | | |
| 24-25 Nemaha Central USD 115 w/Axtell | 794.6 | 0.31625 | 251.3 | $ 1,217,762.24 | $ 1,532.55 |
| 24-25 USD 115 + Axtell & Sabeth | 1601.2 | 0.041907 | 67.1 | $ 325,173.81 | $ 203.08 |
| 24-25 USD 115 + Axtell & 1/2 Sab | 1197.9 | 0.179127 | 214.6 | $ 1,039,836.43 | $ 868.05 |
| | | | | | |
| 24-25 Hiawatha USD 415 & Sab | 1752.2 | 0.03504 | 61.4 | $ 297,530.29 | $ 169.80 |
| 24-25 Hiawatha USD 415 & 1/2 Sab | 1348.9 | 0.12782 | 172.4 | $ 835,529.86 | $ 619.42 |
| | | | | | |
4. In the event of a disorganization of USD 113, the State Board would allocate land & property. Although a public hearing would be held, there would be no local control over this decision. This would be negative.
5. There is a benefit to school districts when they increase valuation, although it is not what most people believe it is. The majority of us are tax payers. Because of this, we see the taxes we pay as directly benefitting a district's budget. This is somewhat true, but not entirely. All Kansas districts levy 20 mills for the General Fund. Although this levy comes from the district, it is considered "state aid." Most districts receive more than is collected from local taxpayers. The general fund budget and supplemental fund budget are determined by weighted enrollment. This is known as the legal max. This is paid through a combination of state aid and local taxes. Although not all districts levy a capital outlay fund, it is the most impacted by adding valuation because it is mill rate based, not student weighting based.
How the State's equalization formula influences individual district budgets is an important consideration in this already complex process. As a district's valuation per pupil increases, that district's state aid percentage decreases. Not all district's receive state aid. Some are wealthy (per pupil valuation) enough that they don't receive state aid. Districts do benefit from receiving transportation funding for students who live more than 2.5 miles from the school and live in district. Districts also benefit from valuation based capital outlay revenue. Depending upon various factors such as state aid, and additional enrollment, the mill rate could be impacted.
---
Q: Is USD 113 required to transfer any land to neighboring schools? Why would USD 113 transfer land if this land generates money for the district?
A: The district does not have to transfer land, but there are actions that a neighboring district can take in the event that a district desires for a land transfer and the current district does not wish to transfer. Page 9 & 10 of the Kansas State Board of Education guidelines provides this information. These districts are able to request mediation and/or take the request to the State Board of Education. In considering the information on pages 9 & 10, there are potential consequences for USD 113 not to transfer property in some circumstances. USD 113 has a say in the situation, but other districts wishing to have the land are not without recourse. It is important to note that operational funds are based upon student weightings – not valuation of property.
---
Q: If I pay $10,000 annually in taxes to the school district – and my land is transferred to another district, does the receiving district automatically receive an additional $10,000?
A: Although this is counterintuitive, the answer is not necessarily. The state uses a multitude of factors (i.e. low enrollment weightings, transportation weightings, etc.) to determine a legal max for each district. The legal max is the final district operational budget. Land valuation is not used to determine the legal max.
---
Q: Did USD 335 violate KOMA by inviting and receiving five Wetmore patrons into their executive session prior to the joint 113/335 meeting to discuss land transfers? And has this action contributed to the desire of 113 to communicate with other districts via written communication rather than joint meetings?
A: Whether or not there was a KOMA violation is a question for an attorney. USD 113 desires to conduct negotiations through written documents. This would allow USD #113 personnel time to research and provide relevant data. It would also allow a forewarning of information that would help to reduce emotions and promote objectivity. USD #113 could then provide a written response that would communicate ideas, perceptions and supporting information. This is perceived to be a better process for achieving an agreement than seven individuals on a board making public statements that may be influenced by the emotion of the moment.
---
Q: The Wetmore Action Group has stated that USD 113 stands to gain around $2 million dollars in "unearned revenue" by closing the WAC and not transferring funds to the districts who may be receiving students who choose to leave 113 for their education. Is this figure accurate and if not, can you explain why?
A: There are a number of proposed changes to the Kansas Funding Formula under Senate Bill 113. At the time I write this, the legislature has approved this bill, but the governor has not signed it. There are several factors that would impact USD 113. If this becomes law, USD 113 will not have any residual weighting from students who have transferred out of the district.
If the governor vetoes SB 113 and does not call a special legislative session, USD 113 would be under the previous law. This law is good through the 2023-24 school year and then it expires. Likely, USD 113 would only be eligible to receive this "Look Back" money for one year – and that has several "ifs."

For the sake of argument, under the old formula, for one year, the General Fund would receive approximately $624,824. USD 113's Supplemental General Fund is typically 35% of the GF. This brings the total to $844,862 of residual weighting for 1 year. In two-year's time, that equates to $1,689,724. Not 2 million and not 2.3 million as previously reported.

If the omnibus bill, SB 113, results in the district not receiving residual funds it will be a relief in a way. Those funds present a dilemma to determine the correct course of action. There is a responsibility to the constituents of USD 113 to be good stewards of the public's money and a part of this is to reduce local property taxes as much as possible while using the funding formula to increase the state's contribution to USD 113. Having the residual weighting could have allowed for a year of local property tax relief as well as the opportunity to utilize funds to help districts who transport the students from the Wetmore area - depending upon how negotiations went with those districts.
---
Q: In reference to the proposed Land Transfer Petitions by 115 and 335, can you elaborate on how
many students who reside in 113 currently and attend any other district, as well as those from 113?
A: At the beginning of this school year USD 113 had 132 total out-of-district students attending our schools. 95 (82 from USD 415, 3 out of state, 9 – USD 115, 1 – USD 335) out of district students attend Sabetha schools. 27 attend Axtell (10 USD 364 Marysville, 15 from USD 115, 2 out of state), 10 attend Wetmore (7 – USD 335, 3 – USD 380). For students living in USD 113, there are 67 students that attend other schools. 37 attend USD 115, 16 attend USD 380, 7 attend USD 335, 2 attend USD 430, 2 attend USD 111, 3 attend USD 415.
NOTE: This information was compiled using Out-Of-District forms completed by parents and shared from district to district. If it does not reflect the total amount of out-of-districts attending, it is because this information was not completed by parents, or was not shared from district to district.
---

Q: Report how many students live in other districts who attend 113? It would seem until recently it's been an unwritten understanding that students who attend other districts and vice versa evens out. If the land petitions are filed by 115 and 335, will 113 file land petitions with other districts like 415 in order to be fair? Do you foresee this becoming a routine process over the years so districts can re-evaluate and get land reassigned based on current student attendance? Also, do you foresee this affecting districts' attitudes in the future about allowing out of district students to attend their schools?
A: (See # 15 for student #s) I would hope that land transfer acquisitions (especially unagreed to acquisitions) do not become a routine process. I can see this causing unnecessary conflict among districts. I think it is reasonable to consider trades of valuation between districts. Districts are willing to allow out of district students because operating funds are generated by students and weightings that come directly from them. As a generalized statement, districts benefit from out of district students. Adding students to existing facilities increases efficiency through economy of scale.
---
Q: If 113 were to agree to land transfers and the allocation of funds it may receive in "unearned revenue" in the timeframe specified by the WAG to avoid use of Land Petitions and Petitions for Dissolution, when is the earliest the recipient school districts would receive the financial benefits for these students? Is there any benefit to recipient school districts for rushing the negotiations before the governor signs or vetoes the pending legislation in so much as they would receive any monies and valuations in time for the 2023-2024 school year?
A: That is a complex question – especially as I write this because we don't know the outcome of the omnibus SB 113. Regardless of whether we are on the old formula or new formula, other districts will receive financial benefits immediately for the weightings of students formerly attending Wetmore. Any benefits from land transfer would a year, or two years out.
The only benefits to recipient districts would be if USD 113 would negotiate prior to knowing the outcome and the impact of the legislation unsigned by the governor. USD 113 runs the risk of putting the district in a negative financial position if an agreement were to occur prior to the understanding of what the financial formula looks like for next year. The only benefit to recipient districts would occur if USD 113 made an unwise agreement. Districts receive state aid throughout the year. I envision any sharing of funds to occur as those funds are distributed by the state. If distribution of funds was done too early in the school year, it could cause the district cash-flow issues.
---
Q: Many tax payers do not have students currently attending school, and many who do now, will not in a few years. What criteria are used to make a determination of a fair land transfer, and are historical trends being considered in the land transfer discussions?
A: In the instance of the closure of Wetmore, I believe that a land transfer is logical. This is mostly because of the geography of the district and the likelihood that students will not attend USD 113 schools, even though we are more than willing to educate them and provide transportation. Since this decision will potentially be in effect for generations, it is important to consider future students. A major benefit to a district in having the land is that the home district receives transportation funding. There is no transportation funding for students who live out of district. The home district also benefits from revenue from capital outlay and bond and interest – although this issue is not a direct correlation because of state aid for those funds. In my opinion, looking at where students currently go to school as well as distance to attendance centers must be a part of the conversation. Where ancestral districts existed is not relevant in moving forward because the location of current attendance centers are vastly different than what existed in the past.
---
Q: Is it accurate that teachers across the district have the same pay scale regardless of the number of students they teach and how does that contribute to recruitment challenges?
A: District teachers do have the same pay scale, regardless of what or where they teach. USD 113 works with the Prairie Hills Education Association to produce a negotiated agreement. I don't believe that number of students taught adds to recruitment challenges for teachers. I see teachers selecting a community based upon a multitude of other factors. Small class size is attractive to teachers, but there are many other factors that have priority.
---
Q: If passed, how will the bills HB2138 and SB113 affect USD113?
A: Sub for HB 2138 has several components. I don't see there being any affect in the near future on USD 113 from this law. It will not impact previous actions taken by USD 113.
SB 113 is another matter. It is a very large bill that combines policy with funding. Previous FAQs, #s 14 and 17 address some of the funding issues. Several components of SB 113 address situations like USD 113 is in with the closing of a school building. At least one of these components of the bill was inserted on the last day of the legislative session without public comment or an opportunity to be vetted. The funding portion of this bill will have the biggest immediate impact on our district. As previously mentioned, USD 113 may not receive any residual weighting. This residual weighting could have been used to help finance districts to transport former Wetmore students. It also could have been used to reduce the mill levy resulting in a year (or two) of reduced property taxes.
---
Q: During the 05.08 BOE Meeting, the legislative update included discussion of the pending legislation that could potentially harm small schools per Kathy Lippert. Did our BOE have any representation or communication with the Legislators who authored and vetted the bills in committee to offer input and concerns? If there was no input from our BOE or other representation, can you explain why?
A: Along with many other small school districts in the State, USD 113 relies on the advocacy efforts of the Kansas Association of School Boards. Their team provides advocacy and communication regarding legislation for member schools. The changes referenced that would be harmful (especially to rural schools with declining enrollment) includes the adjustment of being able to use the previous year, or year before that, of lookback funds for unweighted enrollment. The new proposal of SB 113 is to use the current year, or previous year. An example of what declining enrollment can look like for a specific district can be found on the USD 113 Budget Document for the 22-23 school year. (Note: the 9/20/22 audited FTE enrollment was 1046.6). By looking at this information, it is easy to see how using an additional year in the past for "LookBack" aka, Residual Weighting, would result in additional revenue for a district. Reminder, FTE Enrollment + weighted enrollment X Base State Aid Per pupil ($4,846 for 22-23) = General Fund Budget. This equals $8,363,281 for the General Fund for 22-23.
I visited with Leah Fliter, Assistant Executive Director of Advocacy and Governmental Relations with the Kansas Association of School Boards, about whether or not KASB provided testimony against this portion of SB 113 that will negatively impact districts. She informed me that there was no hearing on this portion of SB 113. She reported that this provision of the bill was added during conference committee without testimony or the vetting that was asked about in this question. Unfortunately, this happens often with education mega-bills such as SB 113, especially when policy and funding are co-mingled in one bill. According to Dr. Craig Neuenswander, KSDE Deputy Commissioner of Fiscal and Administrative
Services, "We have been estimating about 100 districts would lose funding in that change. That number is very rough because we can't estimate what the current year enrollment (2023-24) will be for individual school districts."
---
Q: In the past, has USD113 utilized the two year look back formula and if so, did that benefit all USD113 campuses and how much did they receive per campus?
A: Based on the fact that total revenue is divided by weighted FTE the district received, all buildings benefited. Considering the actual formula that was used, current year weighted FTE was used. Page 2 of this information shows year of lookback used and the impact on the campuses.
---
Q: The SMS/SHS schools have been 'running in the red' according to reports. What has contributed to that and have cost cutting measures been considered before closing the WAC campus?
A: While financial information available from individual buildings is important to consider, the focus needs to be on PK-12 costs. Secondary level education is more expensive than primary education. This is because of more specialization in curriculum. For example, instead of all 3rd graders being taught math by a classroom teacher, Middle Schools and High Schools begin offering specialized math courses. Students and parents are encouraged to challenge students on their ability levels and career interests. Various electives are also provided to meet the needs and interests of students. Another expense that occurs at SMS and SHS is activities. Coach's salaries and utilities to host events add to the expenses of these buildings.
The 2015 Legislative Post Audit made numerous recommendations for reducing staff for the district to become more efficient. The working reduction document from April of 2015- is linked here.
I do want to draw your attention to the KSDE Accountability report. This helps to establish the efficiency of the district on a per pupil basis compared to the State Average. USD 113 has operated at a very efficient rate.
---
Q. Why is USD 113 not offering any of the $5,088 of base aid per student to USD 335?
A: The district is offering $1,258 per student for transportation to USD 335 (and USD 380) for students from the transfer area. Note: USD 335 and/or USD 380 would receive this money even if district transportation is not needed or used by the families.
---

Q. How does the district plan to use the $5,088 per Wetmore student that will be received over the next two years even though the students will not attend school in USD 113?
A: There is no certainty that USD 113 will receive this money for two years. I would anticipate that the legislature will again work to change the formula for FY25. It is true that the district will receive this money for the upcoming year. The #1 responsibility of USD 113 is to the students and constituents of USD 113. With this responsibility comes the obligation to be good stewards of the public's money. I propose that additional revenue from residual weighting be used as tax relief for USD 113 taxpayers. This will need to be supported by the Board of Education, but I see this money going in three directions:
1. Support for transportation for neighboring districts. If this offer is not accepted by neighboring districts, then USD 113 will be able to use all funds exclusively for tax relief.
2. A portion could be used to make an early payment on the district's lease purchase debt, thus reducing the burden of levying taxes for this purpose.
3. The final option is to use the funds (utilizing transfers) to reduce the capital outlay mill rate. Based upon the pattern of USD 113's state aid for specific funds, we would be wise to maximize our Supplemental General Fund (aka Local Option Budget) while we transfer funds from General Fund to Capital Outlay. These funds would not replace all of the capital outlay levy, but would make a noticeable difference on the tax bill for all property owners of USD 113!
---

Q. Could USD 113 afford to take on an additional 100+ out of district students in one year without the base aid funds?
A: Yes! Not only would this be doable in the larger Sabetha system, but it would also be doable in the smaller Axtell facility. This averages out to 7 students per class making for more efficient use of resources. There might be a class or two that would require an additional teacher or para-educator. The funding received through the weighting formula would finance that. It also makes economical sense to make a short term situation work to reap long-term benefits. I would be ecstatic about our district receiving 100 new students with 1 year of unweighted FTE. We would figure out how to make it work. It's been my understanding that Jackson Heights could absorb all Wetmore students without adding any or many teachers.
---

Q. Is it true that USD 335 and USD 380 will receive no funding from the State of Kansas for new students attending their school for the 23-24 school year?
A: No, that is not true. They will get the funding for weightings with the exception of unweighted FTE. Based on the 22-23 WAC Principals Building Report, non-transportation weightings (Career & Tech Ed, At Risk, HD at risk) equaled 32.2 FTE. Using Base State Aid per pupil for 22-23 or $4,846, this is $156,041.
---
Printed in the June 28, 2023 Sabetha Herald
Dear Editor:
Recently, a letter to the editor was published containing misinformation and mistaken assumptions about offers made by USD #113 to transfer land near the closed Wetmore Academic Center (WAC). We want to provide accurate information to help explain the basis of the offers made to these other school districts.
First, students from other school districts on all sides of USD #113 attend USD #113; similarly, students in USD #113 territory have attended schools in other school districts. This has gone on for many years without any adjustments or payments between districts.
Next, USD #113 is ready, willing, and able to educate every student who formerly attended the WAC. We can provide transportation, we have adequate classroom space, and we have excellent teachers to educate our students. Our first choice is to educate every student in USD #113 territory. Our mission is to provide an excellent education to all students in our territory, regardless of geographical location. We do not select any one particular area to emphasize excellence, as some may have suggested.
However, we know many of the students who formerly attended WAC and who live in USD #113 territory may choose to attend other schools, including Jackson Heights. As best we can determine, there may be as many as 86 former WAC students who choose to attend Jackson Heights. We do know students who formerly attended WAC are likely to attend schools in up to eight different school districts. The number floated of 100+ former WAC students attending Jackson Heights is simply unrealistic.
Accordingly, in fairness to the Jackson Heights and Vermillion school districts and to honor the requests of those parents to have representation in that school district, we have made a generous offer to transfer territory to these two school districts. Our research shows most of the students in the territory we offered will likely attend Jackson Heights, although we know some families will still choose to attend USD #113. Likewise, there will be a few families in USD #113 territory after the transfer, if approved, who will choose to attend Jackson Heights. There are not many students in either category.
The question of why USD #113 would offer aid for transportation to Jackson Heights and Vermillion districts, but not more funding has been raised. If the transfer of territory is approved, it will not be effective until the 2024-25 school year. In order to assist these other districts with the costs of transporting those students, we believe it is generous, yet fair, to have made this offer. We are under no obligation to offer any amount. As pointed out before, our obligation is to provide excellent education to all students in USD #113 without selecting any one geographical area for special treatment, as the author suggests we should for former students of Wetmore attendance centers.
These issues are much more complicated and complex than can be reduced to a few soundbites in a letter. The decisions we have made were difficult and undergirded with extensive research, discussion, many public hearings, and consideration of all sides of the issues. We cannot emphasize enough our obligation to educate all students well, not one particular group. We remain committed to educate with excellence all students in USD #113.
Sincerely,
Prairie Hills, USD #113 Board of Education
---
Q: Is it true that At-Risk revenues and expenditures were not part of the viability report as asserted by the Wetmore Community Action Group article "Where in the World is the Money Going?"
No, that is not true. Here is a snip of the 21-22 viability formula reporting the at-risk expenditures by building. Viability report information presented at the November 14, 2022 Board of Ed meeting shares the following:

At-Risk and High Density At-Risk were calculated using unaudited information and then corrected after KSDE conducted the audit. Full Time Equivalency was calculated and a percentage used for the allocation of revenues. For 21-22 this equated to: Axtell: 13.9808%, Sabetha: 72.2482% and Wetmore: 13.771%.
These percentages are influenced by the weightings. According to https://datacentral.ksde.org/report_gen.aspx, The Headcount for the same campuses was: Axtell: 14.6592%. Sabetha 72.8291%, and Wetmore 12.51147%. Once again, these are for the 21-22 school year – the most recent viability document available and the information below is for the allocation of revenue that includes at-risk and high density at-risk weightings.

Additional note: USD 113 follows the KSDE guidelines for At-Risk expenditures.
---
Q: Why is there a discrepancy between the number of students individuals have referenced will be attending Jackson Heights and the numbers that USD 113 has shared?
The reference to this information has been put in the context of other schools not receiving the residual weighting for the 23-24 school year for these students. It has been reported that 100+, 2022-23 Wetmore students will be attending Jackson Heights (for which JH will not receive unweighted funding).
In addressing the count of students who attended Wetmore in the 2022-23 school year, there was a headcount of 123 students at Wetmore on Sept. 20, 2022. Of these students:
*11 graduated (Note – according to the current funding formula, all Kansas school districts receive unweighted funding for students that graduated the previous year – at the same time, no Kansas school receives funding for first-time students such as transfer students, Pre-schoolers, or Kindergartners enrolling for the first time).
*2 are no longer in the United States.
Of the remaining students, records requests indicate they will be going to at least 8 different districts. Best estimates are that there is a maximum of 89 former 22-23 WAC students that may be attending JH, but the final number is very likely to be less.
---
July 21, 2023
Dear USD 113 Family,
I hope this message finds all of our district patrons with the opportunity to spend family time together!
The purpose of this message is to continue the transparency of district operations related to the potential land transfer situation facing USD 113. The position of the USD 113 Board of Education is that our district continues to be ready, willing, and able to educate all USD 113 students. With that said, the USD 113 Board of Education is willing to enter into conversations with neighboring school districts to discuss scenarios that have the potential for the general improvement of all involved districts.
In an effort of good faith negotiations, USD 113 sent separate messages to USD 115, Nemaha Central; USD 335, Jackson Heights; and USD 380, Vermillion. Each of these districts has a different situation.
On July 17, 2023, USD 113 received a counter proposal from the Kriegshauser/Ney Law group. This firm has joint representation of USD 115, 335, and 380. USD 113 and these neighboring districts have differing positions on the allocation of USD 113 land and financial assets.
The counter-proposal requested a response from USD 113 by August 1, 2023. In the interest of good faith negotiations, we look forward to further communications. The State Board of Education's deadline for land transfer requests is February 15.
Recently, the USD 113 Board of Education approved retaining the services of Tenpenny Law. This additional layer of support will assist the USD 113 Board of Education members as they work through this situation and continue to represent the best interests of our district.
Sincerely,
Todd J. Evans
Supporting Information:
June 12, 2023, USD 113 Proposal to USD 115, Nemaha Central
June 12, 2023, USD 113 Proposal to USD 335, Jackson Heights
June 12, 2023, USD 113 Proposal to USD 380, Vermillion
July 17, 2023, Counter Proposal from Kriegshauser/Ney Law group
Click here for Interactive website with map for viewing existing school districts.
---
Can you clarify on the 113 FAQ page if the letter received from the other districts indicates they are going to proceed with the land transfer petition while districts to district negotiations are also in process?
In the second page of the Counter Proposal from Kriegshauser/Ney Law Group, the following is indicated: Given USD 113's stated preference for formally documented information over face-
to-face conversations, we will proceed with initiating the land transfer mediation and petition
process with the state board of education so these communities can expeditiously move towards a comprehensive solution that accurately reflects the needs, preferences, and living patterns of the regional communities involved.
This is all the information we have as of 2:39 p.m., July 26, 2023.
---
Can you clarify if the districts are asking for funds for kids who are just now entering PreK or kindergarten, even though 113 has never had any funds for them nor will receive funding for them via the lookback since they weren't students in 22-23?
The following section from the Counter-Proposal indicates the following.
2) USD 113 will verify that the students claimed by each respective Transferee
District were enrolled in USD 113 in the 2022-2023 school year (or would have been
eligible to attend a USD 113 school through the Pre-K program if it was still being
provided).
This is an unclear segment of the counter-proposal that would require clarification. Considering that USD 113's pre-K program requires the submission by the parents of confidential information for eligibility, this would be a challenge.
---
Can you clarify if HB2553 has any potential relevance for 113 given the closing of the WAC?
It sounds like all districts in the state will have to take on any kids who wish to enroll there (if they have capacity). Do you know if land value would be transferred as well? I'm thinking not, in which case the entire state is open to educating students they don't receive land value for. Therefore, 335, 380, and 115 are asking for something nobody else will get.
Wow, great question. Nothing in education is ever easy. There are many sides to this issue for consideration.
Yes – starting with the 24.25 school year, districts will have a process to follow to allow out of district students to enroll. Land valuation will not transfer.
This new legislation provides for less local control than before, but I am not convinced it is negative. It does send the message that districts of residence are not as important under these new guidelines.
---
Since the other districts have filed their land petition with the state, what are next steps and what may patrons expect regarding public communication, surveys, etc. Also, is there a typical timeline that this process follows?
We have been working to find out this information. It is my understanding that mediation proceedings are confidential. We do not have any communication from the KSDE General Counsel at this time. There is a packet of information that must be completed by the petitioning school districts if they take this to the Kansas State Board of Education for a hearing. For more information, here is a link to the August State Board of Education Meeting. Scott Gordon, KSDE General Counsel, is providing the Kansas State Board of Education with information. Start at 2:58 into the video.
---
The mediator has been chosen for the petition to move forward. Can you outline next steps and what constituents can expect or do to ensure their views are heard and taken into consideration?
One of the first jobs of the mediator is to establish ground rules. One of the rules in this situation is that the offers and discussions during mediation are to remain confidential. We will be mediating with one school district at a time, although it may be possible to meet with more than one in a day. The mediator is not a decision-maker. He is not to take sides. His role is to facilitate the discussion in an attempt to reach a resolution. One of the concerns that USD 113 representatives have is how do all parties involved identify accurate data? There's been much discussion about the accuracy of information and this is an area that will need consideration for all involved.
Next steps: Prepare for mediation. Sift through the emotions and try to identify the main issues. Gather information (and more information!) to support positions. Continue to work to understand the mediation process.
What can constituents do? Continue to communicate with USD 113 Board Members. Find like-minded community individuals and work to communicate your thoughts & perceptions with others. Register to vote and provide support to candidates that share your beliefs. Become engaged in the process.
Our goal is to reach a settlement in mediation, but we need to continue to prepare for hearing(s) with the Kansas State Board of Education. Although it is not our desire, there is the possibility that a reasonable mediation-based solution may not be attainable.
---
Can you please update the student population count for 2023-24 regarding the number of students who attended the Wetmore campus last year and where those students are now being educated? Also, can you please update the number of out of district students who are attending 113 campuses in the current school year and the number of 113 students (total, not just Wetmore kids) who are attending out of district campuses?
(Numbers are not provided for districts with less than 10 students).
Of the 127 Out of District Students Attending USD 113:
115 Nemaha Central: 24
364 Marysville: 12
415 Hiawatha: 84
For 2022-23 students who attended Wetmore, 78 students enrolled at Jackson Heights. Other districts that 2022-23 students enrolled include: Centralia, Onaga, Holton, Hiawatha, Haven, Nemaha Central, ACCHS, & Other.
Note: Accurate information is not currently available for students residing in USD 113 attending out of district schools. That information is not shared with USD 113 at this time.
---
It was mentioned that lookback funding 113 receives for students no longer choosing to attend campuses in 113 would be utilized to reduce tax payer burden for 113 patrons. Can you elaborate on what that means and how it will affect patrons of 113.
This is a concept that is difficult to understand. Lookback funding is included in General Fund revenues for districts. The General Fund is the first fund districts use to pay employees and bills. So, the lookback funding is being used to compensate employees and pay operational expenses. After a district budgets the General Fund, personnel evaluate the need for additional revenue through the Supplemental General Fund and Capital Outlay.
Because of lower expenses across the district as a result of transitioning from 3 campuses to 2 campuses, the board was able to reduce the total mill rate 8% compared to the 22-23 school year. These mill rate reductions were made in the Supplemental General and Capital Outlay funds.
These mill rates are estimates, but are usually close to the actuals: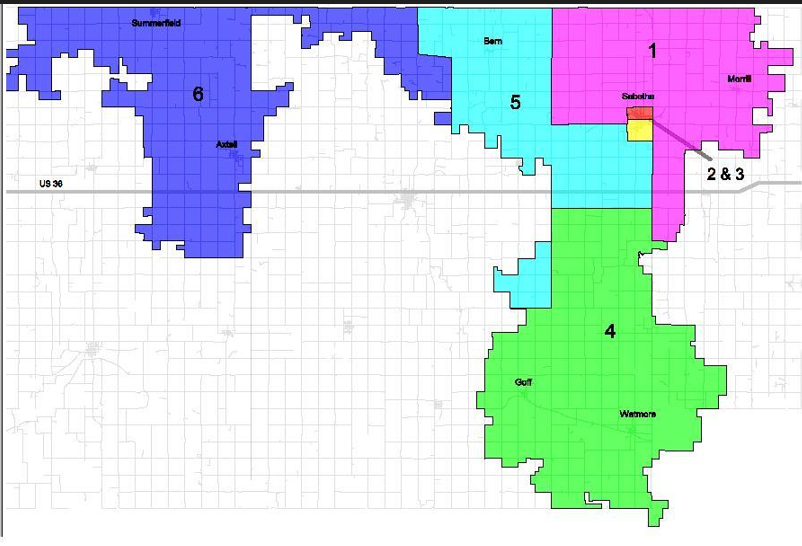 A concern that has been expressed to our board of education is the potential for mill rate fluctuations. We have been fortunate to have a level mill rate for some time. This allows property owners the ability to budget. This year we were able to make a reduction that likely will be short-term, but we made the commitment to save taxpayers dollars when possible. The future is very uncertain as we consider the State's Finance formula.
---
Since the other three districts filed the land petition, is the area USD113 asked 115 for in trade (close to Axtell) considered in the mediation process? Or does 113 have to file a separate land petition to request land be received into 113?
All variables are on the table for mediation. 113 does not have to file a separate land petition for consideration of the 115 land requested in the trade by 113. If an agreement is made during mediation, the appropriate information would need to be collected in order to submit to the Kansas State Board of Education (KSBOE). What becomes unclear is the degree of latitude that the KSBOE would take when the petition is filed with them. According to the statute, the KSBOE has the authority to make the transfer as requested, or to make amendments to the request from the petitioning district as deemed appropriate.
(72-532) (e) Within 90 days after receiving an agreement or, if a public hearing is held, within 90 days after the hearing, the state board of education shall issue its order either approving or disapproving such transfer petition or agreement, or approving the same with such amendments as it deems appropriate.
The KSBOE has the authority to grant the transfer as requested, deny the transfer as requested, or to make amendments to the request as deemed appropriate. If an agreement is reached during mediation, the KSBOE still needs to confirm the requested transfer. I would anticipate they would likely approve an agreement between districts to transfer land, although I believe KSBOE members would closely scrutinize an agreement that does not support their #1 guideline as they consider land transfers as outlined in the KSBOE guidelines:
The ultimate consideration must be the long-term effect a transfer would have on students living in:
(1) the petitioned area, (2) the receiving district, and (3) the giving district. It also must include whether the transfer would add to the general improvement of the public schools in the state and the equalization of the benefits and burdens of education throughout the effected communities.
---
While it is understood that the petitioning districts must procure a survey of land owners, is there information available on exactly how that survey is conducted and by whom? Additionally, will non-resident landowners be included in the survey? Is there a timeframe within which landowners can expect to be contacted?
The information in the land transfer packet includes a form that includes questions for both non-resident landowners as well as landowners. This information is not required for mediation, although it could be beneficial if it supports either side's argument. With that said, there is not a timeframe except that it be completed for the potential hearing with the KSBOE.
Everyone can agree that a 3rd party would need to be engaged to provide a survey that would be perceived to be free from bias, but there are still areas for consideration. Some questions that come to mind: will all the surveys be lumped together from the southern end of the district to 112th road? Or from O road west to the end of the land transfer request? It is important that all sides believe that they have complete and unbiased information.
---
What is the rationale for requesting a land trade with 115 that includes land near Axtell and Baileyville?
In considering the rationale for the land in the Bern area to be transferred to 115, the same rationale can be applied to the land near Axtell and Baileyville. There are students from these areas that attend school in Axtell and it is in closer proximity to the Axtell school. This strengthens the Axtell financial position by being able to count transportation funding for these students if they live in-district. The rationale is the same as that for the residents that live west of Bern. It is reasonable to expect reciprocation.
---
Why is 113 wanting to two areas at and north of Baileyville?
Please see the previous response.
---
If candidates are elected and subsequently their land is transferred out of the district, how will that affect their status as BOE members? Additionally, are there any costs or resources associated with onboarding new BOE members? If so, please detail.
If a land transfer is approved and the residence of the board of education member is no longer in the school district, that board of education member may no longer serve as a member of the board of education. Residing in the school district is a requirement for board of education members.
If there is a vacancy on the board of education, the board would provide notice and accept applicants in order to fill the position.
An additional consideration for this situation is the redistricting of board member areas after the transfer occurs. This is a process that the local board would have the responsibility to undertake.
There are minimal costs with replacing a board of education member who resigns or is no longer eligible to serve. This would include the notice that must be published in the newspaper of record for the open position.
---
Has the petition for disorganization of USD 113 expired? Would they have to petition again? If it has expired is there a need to be concerned about it? Thank you!
There have been conflicting legal opinions on this question. A response from a respected attorney: Because there are so many different types of petitions that can be circulated and filed in Kansas, the laws pertaining thereto can be complicated and confusing.
The law referenced is K.S.A. 25-3602(d). According to this, any petition shall be null and void unless submitted to the county election officer or other designated official within 180 days of the date of the first signature on the petition.
The disorganization petition itself has not been disclosed to the USD 113 Board of Education. Information is not available about when the first signature was obtained, how many signatures are on the document, or whether or not they are valid signatures as identified by statute.
---
When do the new board members take office?
January 8, 2024
25-2023. Oath of office; commencement of terms; length of terms. The term of office of each board member shall commence on the second Monday in January following the election. Each member elected shall qualify by filing an oath of office with the county election office. Each member elected to a board of education shall hold office until a successor is elected or appointed and qualified and shall serve for a term of four years.
---
Land that I own and reside on is currently in USD 115. The USD 113 proposal includes my land in a transfer to USD 113. It appears the surveys mentioned are surveying people in USD 113 about where they want their land to go. What about those outside of USD 113 currently who may be affected by USD 113's proposal? Will our opinion on which district we are placed in be taken into consideration since it doesn't appear we will be surveyed? If so, how?
I (Todd Evans) truly regret that the USD 115 community has become immersed in this situation that resulted from the closure of the Wetmore School. I regret that the unrest in 113 is negatively impacting our relationships with our neighbors.
The offer to trade land was an attempt by USD 113 to problem-solve when USD 115 was indicating a desire to acquire USD 113 land. From the USD 113 perspective, a large property and valuation give-away to USD 115 wasn't and isn't an option. It is reasonable for USD 113 to expect reciprocation from USD 115.
The thought process was that if USD 115 wanted the land west of Bern, a trade is reasonable. Both districts should have some skin in the game. If a trade is not desired, USD 113 is willing to default to the status quo. The perception was that a fair offer was made to USD 115. Based upon an independent auditor's report, the trade offered and declined by USD 115 would give them an additional $1,056,836 in valuation.
A document that can offer clarity of specific considerations of this issue is provided by the Kansas State Board of Education in their guidelines document (start at pg. 10). Some relevant data:
-According to a KSDE report, USD 113's gained/lost student report (shows students transferring within the past year) USD 113 and USD 115 transferred the same number of students from one district to the other this past year. This indicates that there is no material change of circumstances from the Wetmore closure that impacts USD 115, therefore all requests are as a result of the Bern (and B & B) closure.
-The recency of the material change as indicated by the Kansas State Board of Education guideline is an issue: Closure of Bern and B & B were chronologically very near to each other, but these closures occurred 10+ years ago.
-Students living in both districts attend as out of district students.
-In the 2022-23 school year, USD 115 had 123 out of district students. In the 2022-23 school year, USD 113 had 123 out of district students.
-Based upon capacity, the enrollment of out-of-district students will be a legal requirement starting with the 2024-25 school year, with no expectation of land transfer.
According to my understanding of the current guidelines, a survey is required if a district is requesting to acquire land through mediation or by petitioning the Kansas State Board of Education. Here is a link to the packet provided by KSDE.
I would encourage all property owners to communicate with Boards of Education their thoughts and rationale about this situation.