Briana Uphaus
Briana Uphaus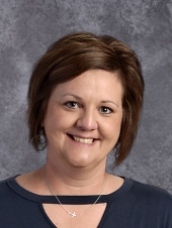 7th-11th ELA Teacher: Axtell Public School
Phone: 785-736-2237
Email: uphausb@usd113.org
Best Contact Time: Plan time: 9:45-10:35 | After school: 3:30-4:00
Mrs. Uphaus teaches ELA to students in grades 7-11. She has been in education for 17 years. During her career, she has taught a combination 1st and 2nd grade class, middle school social studies, 6th grade math, and was teaching 1st grade before she made the move to middle/high school. These previous positions were taught at St. Michael's School in Axtell, KS and Saints Peter and Paul School in Seneca, KS.
Mrs. Uphaus received her Bachelor's Degree in Elementary Education from Kansas State University in May of 2000.
Mrs. Uphaus lives in rural Seneca with her husband Jerry and their two children. In her spare time she enjoys spending time with family and friends, attending her children's sporting events, and loves to root for the Kansas State Wildcats.