Mrs. Yalana Edelman - Second Grade Teacher
Yalana Edelman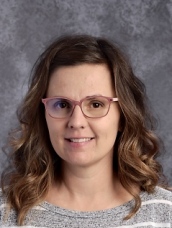 Second Grade Teacher: Sabetha Elementary School
Phone: 785-284-3448
Email: edelmany@usd113.org
Best Contact Time: 10:00 – 10:40 am
Mrs. Edelman's path toward a degree in education included two years at Kansas State University. She transferred to Peru State College to finish obtaining her degree in elementary education. After graduating from college in 1998, Mrs. Edelman began a six year teaching position at Saints Peter and Paul School in Seneca, KS. In 2004, she made the decision to stay home to raise her children.
Mrs. Edelman returned to education in 2014 at Sabetha Elementary as a paraprofessional assisting with fifth and second grade reading instruction. In 2016, she was hired to teach second grade at Sabetha Elementary.
Mrs. Edelman and her husband, Michael, live on a farm outside of Sabetha with their five children, Molly, Kendall, Brecken, Holden, and Jaxon. Her family enjoys vacationing, gardening, fishing, K-State football, and 4-H activities. They also relish special times spent with their extended family.