Biography of Abby Stueve
Abby Stueve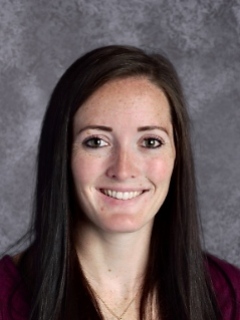 Social Studies: Sabetha Middle School, Grades 7-8
Phone: 785-284-2151
Email: stuevea@usd113.org
Best Contact Time: 8:00-8:15 am M-F by phone. Anytime by email.
Born and raised in Axtell, Kansas. There, she graduated from Axtell High School and headed off to Kansas State University. In four short years she majored in Secondary Education. In 2011 Mrs. Stueve earned her Bachelor of Science in Secondary Education Social Studies. She is the Social Studies teacher at Sabetha Middle School where she teaches all of 8th grade American History, half of 7th grade World Geography/Kansas History, and 6th grade News Activities. In addition to teaching she enjoys coaching. She is the Head Coach of Sabetha High School Volleyball and Axtell High School Girls Basketball and the assistant track coach at the Sabetha Middle School.
In Mrs. Stueve's free time she loves to play competitive sports like volleyball and basketball, try new thrills like skydiving, and cooking. She spends her time with her family or renovating her house. In 2013 she married her husband, Dillon Stueve. He works in Seneca as an HVAC technician at Eisenbarth Plumbing.