Sabetha Elementary School is among five Kansas schools that have been designated 2021 National Blue Ribbon Schools. Click here to read about it.
read more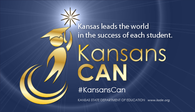 The official KANSANS CAN video - This video features several educators and students talking about Kansas public schools and what it takes to achieve success.
-Preparing Kids, Shaping the Future -
read more
The following rules are adopted by the Board of Education in compliance with K.S.A. 72-8302 and Board of Education Policy and Rule JGG and JGG-R. They are intended for the safety of passengers. These rules apply for regular . . .